A moment of Revelation
People always tell me how nerdy I am. I thought it would be easy enough for me to prove them otherwise, so took some tests last night. Here goes: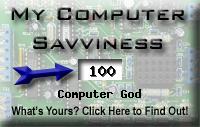 Although my life seems to be devoted to nerdiness, I fortunately still have some un-nerdy likes and dislikes. So I'm off to County Down this weekend to smell some fresh air (maybe even do some walking in it), play poker (ok, that MIGHT be nerdy after all), BBQ in the rain, play 'pim-pam-pet' and talk to funny old lads & ladies in a local Northern Irish pub.